Three girls with three birthdays in the next week means a slumber party at Grandma's house last night for an early celebration, Belgian waffles, presents, and all sorts of silliness. Once the presents were opened and tissue meticulously folded in stack of pretty rectangles (Calie's got the paper love like her aunt), the three smallest girls decided to use it for a DIY. Hair bows.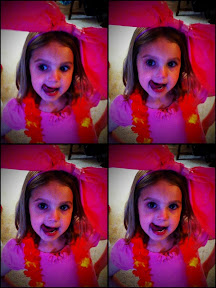 AND then went in high fashion to Target to shop for shoes and other accessories.
Half of the group went quickly to the other side of the store but I stuck around for blackmail photo ops. We had dinner at Mimi's Cafe right before, sans bows. That's because we became CSI agents in the restaurant and we are pretty sure we prompted an investigation (no lie!).
The youngest birthday girl rode her new bike to walk Genevieve with Grandma (more on the bike later)...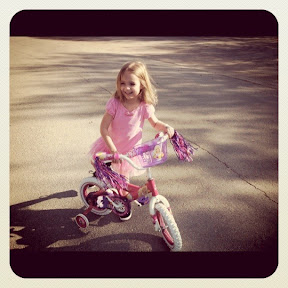 And then she piled in with the bigger girls for a giggly, squirmy sleepover on the floor. She woke up grouchy.
Oh my goodness, she looks just like me in that picture.
We said goodbye to grandma later today after an estate sale (yep...I drug 'em there and found cool stuff I'll show you on Thrifty Tuesday) and girl talk. We talked the oldest birthday girl, turning 29 this year *cough* into going home through Big D so we could see if H&M kept their promise. Oh, happy day!!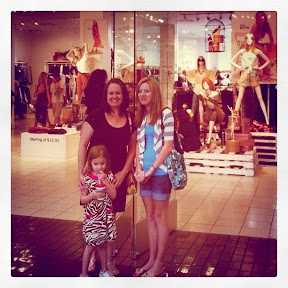 Shoppers! Start your engines!!
YES!! I was so hoping it would not be a big let down, and it wasn't. Cute stuff...great prices...bigger store this fall. This one is a preview. Here's my favorite from today.
Gorgeous. $39.95. I might go back and get it for Easter. This is one of those stores that you take your girlfriends to and try on a million things and come out with a new wardrobe. It's good, girls...really good. And, no, I didn't buy today, but I'm going back! Maybe I should make myself a tissue paper bow to go with the dress first?
See you tomorrow! We had a fun and spur of the minute birthday party for Kate on Thursday before this adventurous weekend and I have stories and maybe two pictures. Oops.
- Posted using BlogPress from my iPhone