I was reading my new Betty Crocker Picture Cookbook, and I found out some things that I thought I knew, but I didn't. I guess I am a Betty in training still! Did you know this?
Dinner is the main meal of the day in the United States and is usually served in the evening. But, on holidays and special occasions, dinner may be served in late afternoon. If so, then the meal that follows is supper. So much for just having a Texas state of mind on whether it is dinner or supper.
Coffee may be served with the main meal at informal dinners and luncheons, but if it is a formal affair, serve it last with dessert.
If you have a special guest at dinner, the woman will sit at the host's right, and the male will sit at the hostess' right.
Meal ideas for company: Cheery Breakfasts: Buffet Eggs, Overnight Cinnamon Coffee Cake, Peach halves and Raspberries, South American Chocolate
Prize Coffee Cake
from Betty Crocker's New Picture Cookbook, copyright 1960
1 1/2 c. sifted Gold Medal flour
Heat oven to 375. Grease and flour a square pan. Mix sugar, shortening, and egg thoroughly. Stir in milk. Sift dry ingredients together and stir in. Spread batter in prepared pan. Sprinkle with desired topping. Bake 25-35 minutes, or until toothpick stuck in center of cake comes out clean. Serve warm, fresh from the oven. Makes (9) 3 inch squares.
For Blueberry Buckle ("the best of old-time Blueberry Teacakes," says Mrs. Homer Dowdy of Flint, Michigan)I love that they include comments like that in this book: Make Prize Coffee Cake above, use two cups of flour and carefully blend in at the last two cups of well-drained blueberries. Sprinkle top with mixture of 1/2 cup sugar, 1/3 c. sifted Gold Medal flour, 1/2 tsp. cinnamon and 1/4 c. soft butter. Bake 45-50 minutes. Delicious as dessert when served warm with cream.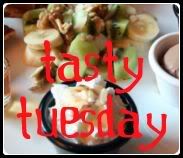 Don't forget to send me your tried and true, passed along, used over and over family recipes to feature! You know, the ones you have spilled things all over and they are crusty when you pull them out to use again? :)