Close your eyes, remove the tables of belongings that are tagged for sale, and dream with me.
Today was a great day for 1960s inspiration; glamorous inspiration. The house I traveled to in "old money" Dallas was one of the best I've seen in a long time. I wasn't focused on the contents for sale, but the house itself. I would pack up my three orange suitcases and move right in.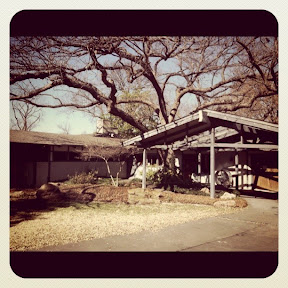 The house was not the most alluring home on the block (although beautiful trees and an impressive lot with a view); but the architecture and lines from the outside gave me a hint of what would be presented grandly on the inside. And it was. I walked in, exclaimed, "This house is unbelievable!", mouth wide open, and the ladies heading the sale replied, "It's fabulous. Just keep walking." I did. Eyes up high, not really noticing what treasures from it's past owners were up for trade... "They are tearing it down." What? NO. They can't. It's in a flood plain. *sigh*
Those are furs on the clothes rack by the glass.
My head was up the whole time, in awe of vaulted ceilings and walls that didn't block, only divided the rooms into different spaces. The floor was wide open, and the entire back wall of the house was GLASS. Unreal. Striking view. I envision what the people who lived there lived like. They must have been wonderful entertainers; the wine goblets and eclectic mix of fondue pots and serving dishes were plenty. I can hear the lady of the home's kitten heels clicking on the parquet flooring that has faded where rugs lay.
You step up into the bedrooms, and down into a basement (it was closed off); the wallpaper made me laugh out loud and sent me searching for more.
Only minimal division between rooms...
The two living areas were definitively set apart;
one for family, one for guests.
Glass...all over...glass...and a gorgeous view.
Her cookbooks. I'm sure that her guests were fed well and recipes were shared. The only thing I carried home from the sale was the Joy of Cooking from 1964.
A pretty picture window in the kitchen to watch guests arrive for the evening.
Once in the dressing room and closet that could have doubled as a small apartment, I wanted to throw on a feather boa and a little black dress, carry a sequined clutch, and welcome guests through the double carved wooden doors and into the plush social gathering that once echoed friendship, and men in black ties held martinis and introduced their wives. Don't you hear Frank Sinatra in the background?
I lost myself in this place. And they are tearing it down. So long, dream home, so long.