Dear H&M,
I only travel to North Park once in a blue moon or a broken iPod, and tonight that was my ticket to come and shop your new store to find pretty clothes at awesome prices that I've only seen in pictures in Lucky magazine.
Ugh. Really? You are closed for the spring preview? And you open....tomorrow? (no I did not throw a hissy fit in front of the mall crowd...but I wanted a new Easter dress and some long tank tops, and cute shirts and jackets to try on and blog about). A moment of silence, and a time out on the mall bench, please. Oh, well. I walked a little further pushing an umbrella stroller with a Build A Bear box hanging sideways on it and a 35 pound kid and my purse dragging the ground and, *sigh* ...relief.
Anthro. Katie stayed occupied with her new stuffed puppy and her brother with my iPhone looking at pickups on the comfy sofa while I spent a good twenty minutes perusing pretty books and admiring the softest t-shirts ever. Until she couldn't get her puppy's shoes on and i feared for the tea cups and fragile china sitting close by.
So, H&M, it's a good thing your preview store wasn't far from an old favorite, or that fit would have been embarrassing, no? And then, we really did get an iPod fixed, and I got to play with these...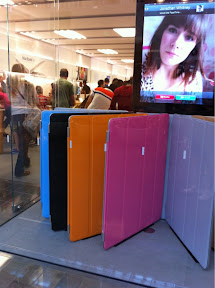 And contemplated and weighed risks and costs for a trip down again tomorrow for your re-opening... through information on the Gas Buddy app. Somebody bring me a broken iPod.
Love,
Birdie
- Posted using BlogPress from my iPhone