Thrifty Tuesday will now feature a vintage recipe to go along with our finds, because I love linking up with the ladies at
For the Love of Blogs.
And, it's Tasty Tuesday over there!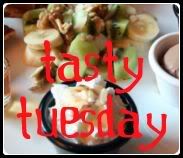 6 hard cooked eggs, halved lengthwise
2 tsp. prepared mustard
1 1/2 tsp. Worcestershire sauce
2 tsp. lemon juice
1/4 tsp. salt
1/8 tsp. pepper
1/4 c. mayonnaise
Save egg whites; mash yolks and mix with rest of ingredients. Add one of the following:
1 can flaked tuna (ewwwww...I say) with 1/8 tsp curry powder and use 1/2 c. commercial sour cream in place of mayonnaise
1 can shrimp, chopped
1/4 pound crisped bacon, about 8 slices, chopped
1 can deviled ham
2/3 c. sharp cheddar cheese, shredded; increase mayonnaise 2 tbsp.
1 can salmon, with juice (remove skin and bones)
I'm not so much of a fishy person, but maybe somebody reading is! I could do the bacon and the cheese ones, but hmmmmm...not so sure about the others, Miss Betty Crocker. Ha!
Now, on to the finds....grab your deviled eggs and let's go!
Cinderella gold Pyrex dish $3.50 This one is a 1960 limited edition holiday pattern.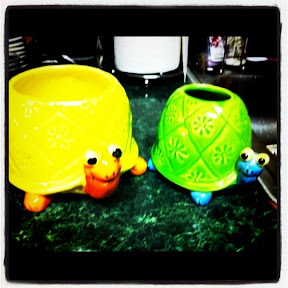 Little turtle planters $1.
Funniest book ever on safety for kids, 1937, $1, butterfly needlepoint 25 cents, paper placemats (vintage Hallmark) 25 cents, paper coasters 25 cents.
Pillowcases $1, Kenworth cap 50 cents, vintage Dallas police shirt, $1.
A steal!! Vintage bathroom cabinet storage originally marked $10 and $20; I paid $1.25 each!!
And the find of the day. Vintage mid century floor lamp originally marked $150... Start the car....$37.50!!!
So, what time should I pick you up next weekend?
"http://i973.photobucket.com/albums/ae219/scenicglory/designs%20for%20my%20lovely%20friends/mamabirdiesignature.jpg" />